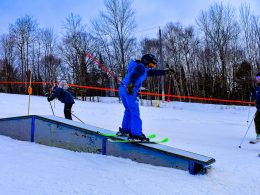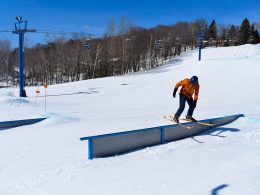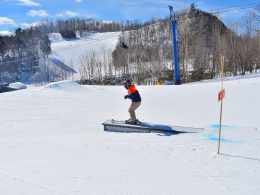 Riding Park is all about progression, having the courage and support to try new things and the right environment to do it in!
Due to covid protocols, Freestyle Thursday nights are not available during the 2020-2021 season. Thank you for your understanding!
Please note: Skiers must be 8 years old or older, competent and capable of skiing on their own and riding the chairlift. No drop-ins. Lift tickets are separate.
Contact our Customer Service Desk if you have any questions or would like to sign up at 705-789-1773 or info@skihiddenvalley.ca
Covid-19 Protocol
All lesson participants will be required to wear double-layer face coverings at all times during their lessons. We will ask people waiting for their lesson to please maintain social distance until the lesson supervisor has checked them in and paired them up with their instructor(s). Social distancing will be required at all times during, and if instructors need to assist a student personal protective equipment must be worn. Groups will be kept smaller in size and whenever possible group membership should be kept inside your social bubble.