Happy New Years from all of us at the Muskoka Ski Club and Hidden Valley Highlands Ski Area! May 2021 be a heck of a lot better than 2020. We miss seeing all the smiling faces on our slopes and sincerely wish we could have our lifts operating for you at Hidden Valley Highlands Ski Area. We want you to know that the ski and snowboard season is not over in Ontario!  Resort operators, like us, and Provincial Ministries are working together to safely reopen our skiing and snowboarding.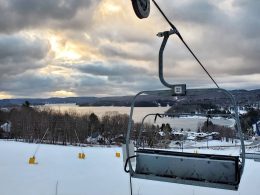 This pause in Operations comes at an important time when everyone needs to work together and follow public health regulations to reduce the spread of Covid-19. We need to realize that it is our personal behaviour that leads to transmission of this virus. It is important to stay home during these 28 days and limit personal travel as much as possible.
With the recent fresh snow Muskoka has been receiving, re-opening on January 23rd feels like waiting for Christmas morning all over again. Our Team will continue to make snow and maintain the slopes so that Hidden Valley Highlands Ski Area is in pristine condition when we re-open.
When we do return to skiing and snowboarding, expect to see the same safety protocols in place as before.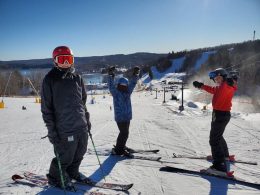 Do not visit the ski resort if you or anyone in your home is feeling unwell. Masks will be mandatory. Maintain physical distance with skiers and riders who are not part of your household, including 2 meters in lift lines and riding chairlifts. Use your car as your base lodge & arrive ready to ski or snowboard while remaining outside as much as possible.
The Muskoka Ski Club and Hidden Valley Highlands Ski Area has been a place where winter memories and traditions have been created for many years. It is like a second home to many people and all the staff cannot wait to welcome everyone back to a fun, safe setting where we can enjoy the winter sports we love. Skiing and snowboarding play a crucial role in the public health and mental wellness of Ontarians during the winter. Getting outside and being physically active in the cooler winter months creates a healthy community which is extremely important during this pandemic. We are anxiously counting down the days to being able to spend time together out on the slopes. We will have the place ready for you!
January 23rd is not that far away, keep your snow dances going and stay healthy. See you soon on the slopes!