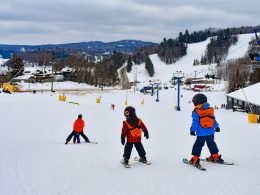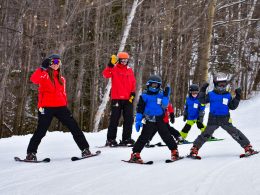 There is no better way to get your children Skiing or Snowboarding this winter. Choose from a variety of options to suit your budget and your schedule as well as your child's ability and interest. These value-priced camps offer instruction and coaching in a fun, well-organized sessions that will improve your child's ability and enjoyment.
---
2020/2021 INFORMATION:
We will not be holding the usual 3 Day Camps over the December Holiday. Private, Semi-Private and Discovery Lessons will be available. Please click here to head over to our Lessons Page.
Our 8 Week Kids Camp will be split into 2 four weekend sessions – with the choice of either Saturday or Sunday lessons.
Prices are coming soon. For updates, please follow us on Social Media or join the mailing list below.
JOIN THE SNOW SCHOOL MAILING LIST
Helmets are recommended for all camps, check out http://www.lidsonkids.org
Waitlists are available for camps that are full, please call us at 705-789-1773 or email info@skihiddenvalley.ca
Please call 705-789-1773 or 1-800-398-9555 if you need help to register. 
Covid-19 Protocol
All lesson participants will be required to wear double-layer face coverings at all times during their lessons. We will ask people waiting for their lesson to please maintain social distance until the lesson supervisor has checked them in and paired them up with their instructor(s). Social distancing will be required at all times during, and if instructors need to assist a student personal protective equipment must be worn. Groups will be kept smaller in size and whenever possible group membership should be kept inside your social bubble.
---
CAMP DAY CHECKLIST
Participants have had a good night's rest and a healthy breakfast.
Warm, dry, waterproof clothing and mittens.
Neck warmer, hat or helmet, and goggles.
Warm, dry socks. An extra pair is always a good idea.
Sunglasses for warm sunny days.
Sunscreen – important even on cloudy days.
Make sure that you, your child and your child's instructor have agreed on a place to meet when the camp is finished.
---
Refund policy:
Season passes are refundable for medical reasons only.  100% refund to December 10th; 50% refund to January 1st; 25% refund to February 28th; no refunds will be issued after March 1st.
Refunds for medical reasons must be supported by a doctor's certificate.  All refunds will be considered after written notice and all passes are returned to the Customer Service desk.
Camp lessons are refundable if cancelled 7 days prior to camp start.  This is required to allow us to resell the spot. Participants who cannot continue due to illness or injury will be allowed a credit equal to the pro-rated value of the remaining lesson(s) in the form of a Hidden Valley Highlands gift certificate.
Private/semi-private/group lessons are refundable if cancelled 72 hrs before the lesson time.  No refund or credit will be given to participants that elect to miss their lessons for any reason. Cancelled lessons are subject to a $10.00 administration fee per lesson regardless of how far in advance the lesson is cancelled.
Camps and lessons are held in all weather conditions.  Refunds are not issued due to weather unless Hidden Valley Highlands Ski Area cancels the camp or lesson.
Refund requests may be faxed to (705-789-7140), by email (info@skihiddenvalley.ca) or by bringing in a letter in person to Hidden Valley Highlands Ski Area.
Telephone conversations with Hidden Valley Highlands Ski Area employees do not constitute an official refund request.
All non-lesson refunds (camps, passes, etc.) are subject to a $25.00 administration fee.